For people with insanely thick, frizzy, uncontrollable and wholly unruly hair like mine, you'll be pleased to know that there's now a way of getting a glistening, diamond shine with enriched and tamed locks all at the same time.
The week following Christmas, I ventured to the deepest, windiest part of Cornwall for a little break away with Dan, his parents and Philadelphian friends (hi Josh, hi Morgan). When I wasn't impressing them with my Demi Lavato impersinations, eating my own body weight in food and generally causing a scene drinking Prosecco from the bottle on New Years Eve, I'd made firm plans to spend my evenings soaking my hair in masks and oils to give it a boost for 2016. Nexxus totally scuppered my plans though because one shampoo and conditioner later there was no need for any nurturing.
I was advised to check out the Nexxus diagnostic tool which prescribes the correct product from the range for your hair type and the results you'd like. For me, it was the rebalancing shampoo and conditioner (price £14 each).

After just one wash and a five minute condition, I dried my hair. Amazed at the softness I put one pump of the Nutritive Encapsulate Sérum (price, £35) onto my hand, rubbed my palms together and applied to ends. This is designed using 100% pure Elastin Protein and a precious Caviar Complex to restore and reconstruct damaged hair. Already my hair was practically styled so I used the GHD's to curl the ends of my hair. Amazingly it kept and was just as shiny.
For those extra special days, there's also the masks. Prescribed for me was the Restoring Mask (price £27). It's hard like butter and the tub is a huge 190g so you get plenty for your money.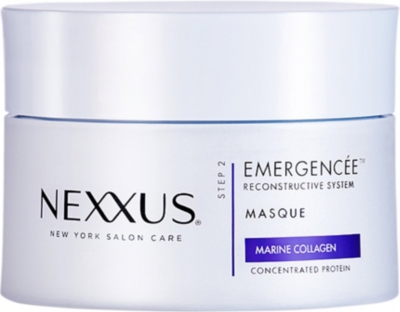 Have you tried Nexxus? What did you think?