I'm engaged to someone who doesn't get over-excited at the prospect of dining out. My love doesn't have Whatsapp conversations about food for the entire day. Nor does he care for a new restaurant opening in town. Me on the other hand, I live for it. I can't imagine my life without restaurant fun, food heaven and immense wine. Ok, I know I sound completely pretentious but I just really bloody love good food. Lucky for me my best friend is another complete foodie (hi Rosie) and between the two of us we've tried every restaurant in town.
Fortunately when Dan and I were dating, he was hot on his research and did take me to some insane restaurants. Gaucho on Swallow St will always be our special first date place, Purl in Marylebone continues to be our intimate cocktail hole and the (now gone) Wabi was the best sushi I've ever had. For those who don't know, Wabi was this crazy sushi restaurant underground in Holborn where the waiting staff dressed like Kill Bill and the head chef was ex Nobu, who was handpicked to open Nobu in Australia by the owner.
Needless to say, when it comes to dating it's sheer hell for the man to choose a suitable restaurant. It's no secret that London's food scene is one of the best in the world so the quality is outstanding. Get it wrong and go someone sub par and chances are if your date's tired, it'll be a flop. Unless you're pretty special obviously. In the past, I've often been asked for recommendations on where we should go and actually, they've always been wonderful. Well, aside from that G-d awful date in Gordon Ramsay's Petrus. Sorry if you're reading this (I won't name names) but the food was insane, the wine perfect but the company… I mean guys, don't talk about materials for revolving doors the entire time because it's boring and the waiter gives better chat.
WHERE TO GO
A Run Down Of My Favourites
1)Fischers, Marylebone
From the restaurant giants Colbin & King, Marylebone's Fischers is evocative of Vienna in the early 20th Century. As soon as I heard of it I knew I had to go there. It's elegant,informal, a good celeb spot and the decor – top notch. The food here is always delicious whether it's their Brotchen or Wiener Kaffee. Don't be worried about not knowing what that is, the staff are on tap to help (and it's also written in English).
When it comes to ambience there's always a perfect distraction should the conversation falter. It's a favourite of mine for breakfast with clients or lunch but dinner is where it's really at. Perfect for a date that has potential to lead onto after-drinks in the nearby bars.  It's a place I always really look forward to going for a few days in advance. To give you a feel for the restaurant, Colbin & King also own The Delaunay, The Wolseley and more recently, Bellanger.
What To Order
I never defer from the chicken schnitzel, mashed potato and paprika buttered green beans. If on a budget, you can sack off the starters because it's all about the main course and good wine. Wine can be pricey (red and white £24-£140, Champagne/Sparking £46-£195 ) but is always good. A decent bottle for under £30 will always be satisfying and really hit the spot when you want to relax and enjoy yourself. A reliable inexpensive bottle of white such as the Grüner Veltliner 'Lois' 2015 Loimer, Kamptal is my perfect accompaniment to the chicken.
2)Frenchie, Covent Garden
Gregory Marchand, known for his off the chart cooking at Savoy, Mandarin Oriental and Fifteen for Jamie Olivers (where he adopted the name 'Frenchie') has brought his unique passion for food into his restaurant in Covent Garden.
Located next to (mediocre, sorry) places such as Sticks N Sushi and Flat Iron, Frenchie is a diamond in the coal mine.  It's chic Parisian feel during the day is bright and bustling and then by evening is relaxing and intimate. I love that table right there next to the kitchen because you get amazing service and can see everything. If you want to impress your foodie date this is the place. Staff care about food, love to talk about ingredients and can match wine superbly.
This restaurant was recommended to me by Rosie and I'm eternally grateful!
What To Order
Lunch differs to dinner. Midday enjoy a fixed menu – either two courses or three. Always do the three. For dinner, enjoy the delights that the six course menu have to offer. You don't have to have all six courses of course. Always choose the bread but be cautious of the snacks if you don't like pork. To start, if Duck Foie Gras, with Beetroot, Raspberry & Horseradish Snow isn't your thing, choose a small pasta dish. The mains menu is seasonal so always on rotation but for me the 'Glazed Salsify, with Smoked Egg Yolk and Scottish Chanterelles' is yummy. Allow the staff to pair your wine for you but do keep an eye on price.
3)Yauatcha, Soho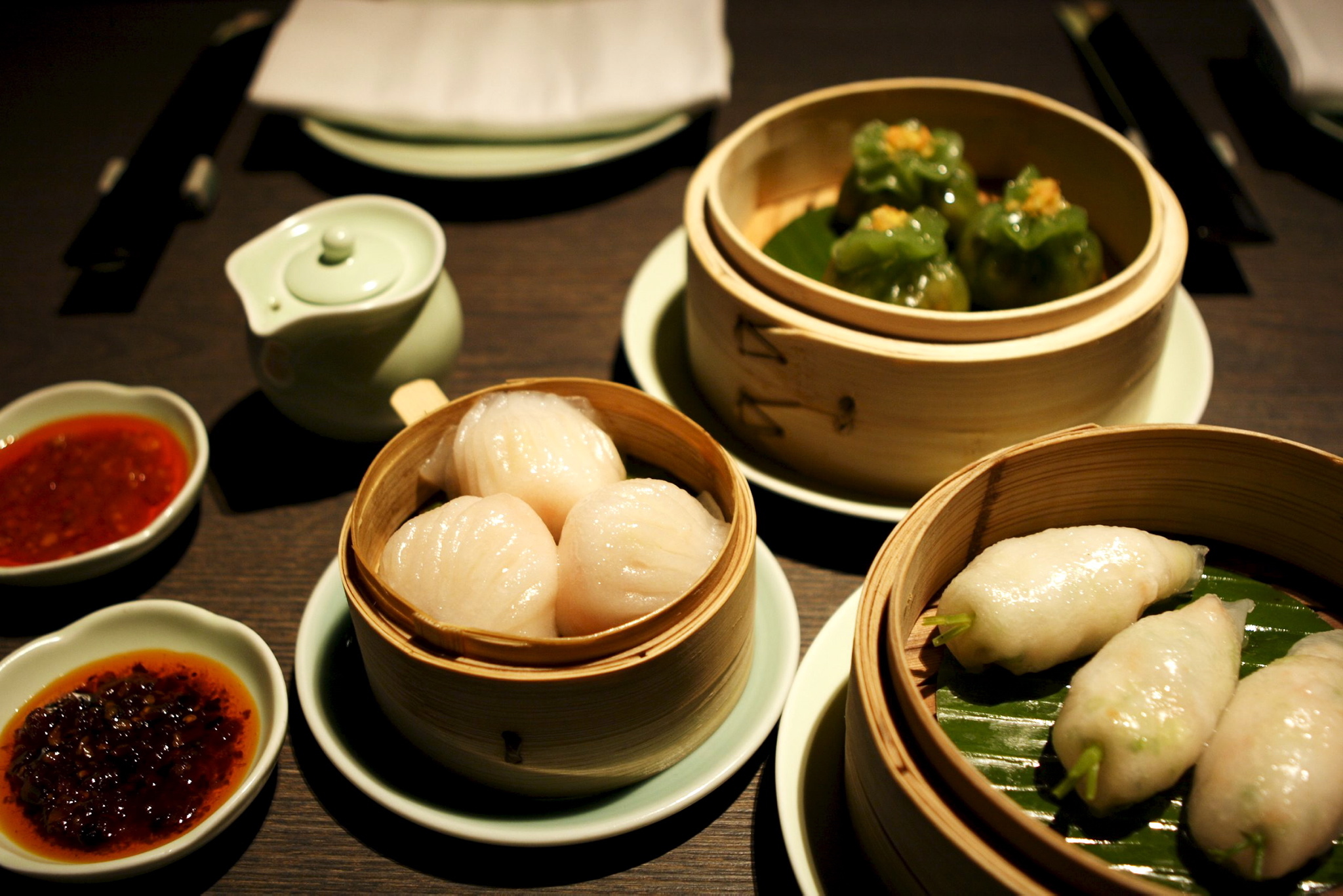 Owned by Hakkasan Group, Yauatcha has been a firm favourite of mine for six years or more. On the corner of media hub Broadwick Street, I've never (touch wood) had a bad meal here. Think five star contemporary Chinese meets chic London fashion world. Walk past the window and you can see all of the intricately designed sweets and desserts which will get your taste buds going.
They specialise in some beautiful dim-sum and their Michelin star is testament to their effort, passion and dedication to quality, taste and presentation.
What To Order
The trick here is to not over order. Go sensibly first of all (it's so easy to get carried away) and order more as you see fit. For me, it's all about the beef shui mai steamed bun, the chicken cheung fun and the venison puff (I mean hello this is Hakkasan owned).  Grab a noodle or rice dish to share and some veggie sides. At Yauatcha, a cocktail (around £12) to start is always a good idea and head to the Sake. If you're unsure which to order, ask the waiting staff who will always be enthusiastic and will welcome the conversation. If you don't fancy dessert, end the meal with a 'Lady Penelope' cocktail. You'll thank me later.
4)Sartoria, Saville Row
Even the fact that Sartoria is situated on Saville Row with all the suited and booted in and out regularly makes you understand which end of the scale the food is likely to be on.
Since Brasserie Chavot shut up shop near my office, Sartoria quickly became my next easy-to-visit breakfast place with clients. After one conversation with the waiting staff I went back for lunch the same day. About two days later I went for dinner. To say this place is addictive is an understatement.
Modern, bright and airy with attentive staff and a small menu selection makes this the perfect date night restaurant. The most delectable Italian food I've ever tried in London and recommended by three other Italian people on separate occasions – believe me, the food does not disappoint.
What To Order
Like Fischers, I always have exactly the same thing. The fettuccine with grana padano, broad beans and black truffle that melts in your mouth, all polished off with the Soave Classico, Pieropan 2014 (Trebbiano di Soave). Price wise it's not that bad but again it's the wine – £40 a bottle on average.
5)Mews of Mayfair, Mayfair
Those who watch Made In Chelsea (not me) would have seen this place on there many times.
Mews of Mayfair is situated in a little side path, delivering beautiful hearty food without pretence. With a brasserie, a courtyard and bar there's plenty of places to choose from to sit and enjoy some good wine and browse the dinner menu. There are 7 gin and tonic serves and a menu spanning from bar snacks to salads to full meals, it doesn't disappoint.
For me this is a great little spot for a cosy date night with reliable good food and drinks. Service can sometimes be a little on the slow side but that's a gift or a curse depending how you look at it. For me I love the relaxed environment and you can get lost in chat.
What To Order
Be sure to check out their seasonal menu because that's where the treasures are. Not so long ago I tried the venison suet with truffle mash and red cabbage which was divine. The greats such as fish and chips, burgers, mac and cheese etc are all on the menu and if you don't mind eating bread and fried food in front of your date, do try the fish finger sandwich from the bar food.
6)Dishoom, Covent Garden
Created 'from Bombay with love' and boy do they care about food.
On the relatively 'stodgy' side, it's important to go there when you're super hungry. The last two times that I've been we've spent £50 a head and £70 a head. The food is a feast for the senses. The aroma's, the taste, the fun friendly chat from the staff and the tables next to you, it's certainly an experience to have with a date. It's important to remember that you can't reserve a seat here so do turn up in advance and expect to queue for your table. It's that popular.
What To Order